PrZen/33512585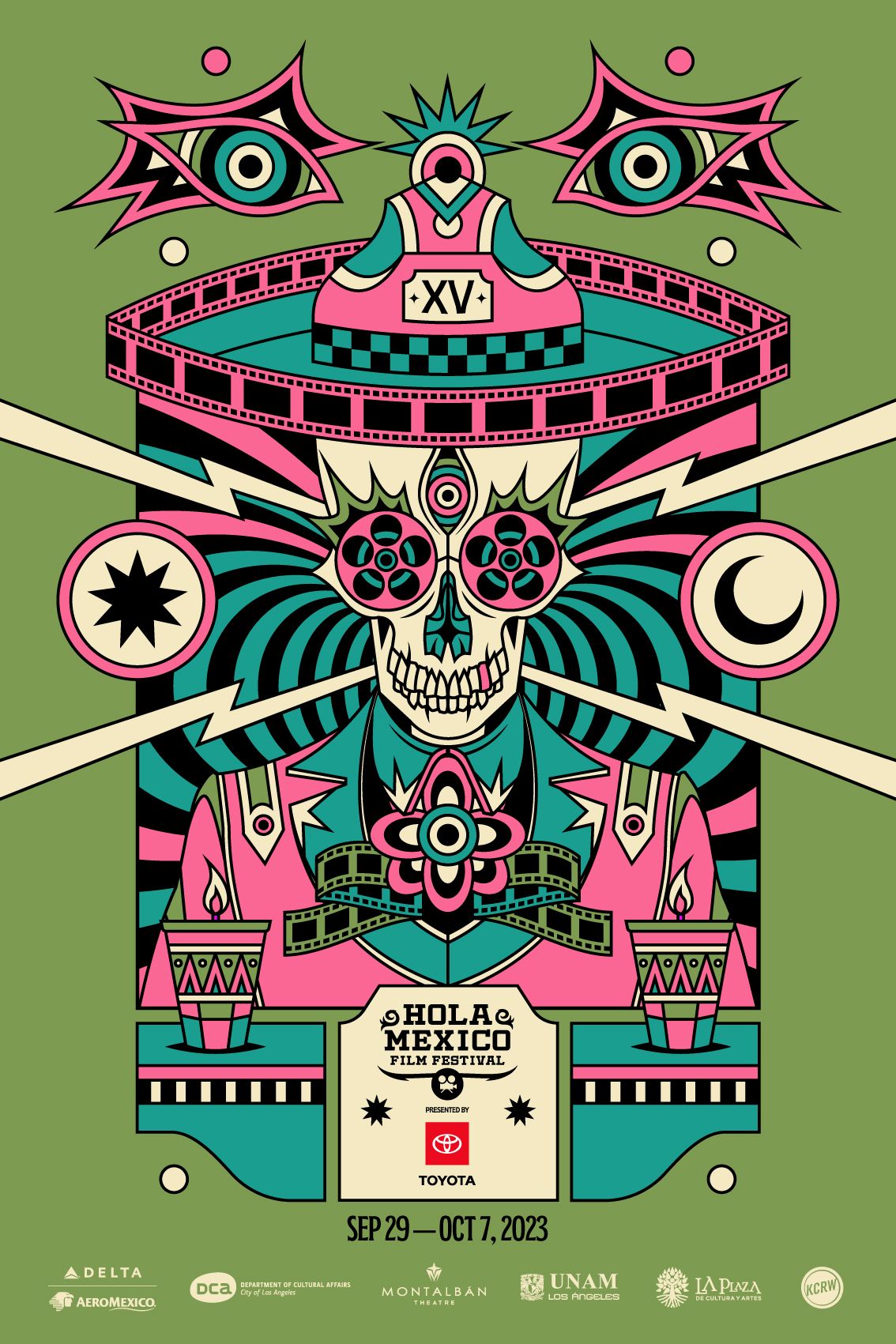 A Quinceañera celebrating the latest & greatest Mexican cinema

Follow the conversation on #hmff
LOS ANGELES
-
PrZen
-- The largest Mexican film festival outside of Mexico, Hola México Film Festival presented by Toyota, returns for its 15th annual edition on September 29 – October 7, 2023 during Hispanic Heritage Month.
Get your festival passes for the Hola Mexico Film Festival presented by Toyota starting July 7, 2023 at
https://vivenu.com/seller/hola-mexico-film-festival-1l4c
Hola México Film Festival (HMFF) once again will give viewers the opportunity to gather in celebration of Hispanic Heritage Month by seeing a selection of some of the latest and most acclaimed Mexican films. The festival gathers more than 10,000 cinephiles to see 20 + films, many of them making their U.S. or West Coast premiers during red carpet galas with celebrated actors and directors in attendance.
Hola México Film Festival presented by Toyota will feature 20+ films and 20 short films from its filmmaker-focused program Tomorrows Filmmakers Today.
Samuel Douek, the founder and director of HMFF, had this to say about the film festival's 'quinceañera' (15th annual celebration.)
"We're very excited to celebrate our 15th anniversary, our 'quinceañera' if you will. A 'quinceañera is the traditional 'coming of age' celebration for a young Latina and I very much feel as if the Hola Mexico Film Festival has not simply grown over the past 15 years, but has truly come of age as has our connection with L.A.'s Hispanic Heritage Month celebrations. In 15 years of showing Mexican cinema to our community we've seen the Mexican film industry grow in huge leaps and bounds, coincided by a large growth in audience numbers. Still, through all that growth the essence of HMFF remains the same: fantastic Mexican cinema in luxurious movie theaters surrounded by strangers who become familia via our shared love of this great art form, and the celebration of it all!"

"Cinema serves as an exceptional platform for highlighting the richness and diversity of culture,"
stated Alex Chau, Brand Media Manager, Integrated Marketing Operations for Toyota Motor North America.
"We are thrilled to renew our partnership with the Hola Mexico Film Festival as they commemorate their 15-year milestone, presenting a captivating showcase of Mexico's most brilliant filmmakers and talented individuals on the grand stage, coinciding with the vibrant celebration of Hispanic Heritage Month."
All the greatest movies have memorable movie theater posters and each year the Hola Mexico Film Festival participates in that tradition, priding itself in working with Mexico's most sought-after graphic designers to create unique and very collectable poster art. This year's poster was designed by Tone Olvera, a creative Mexican illustrator and art director with more than a decade's worth of experience in the highly competitive ad agency world.
He brings his style of psychedelia inspired mysticism and bold line 'blackwork' imagery to the 15th anniversary HMFF poster which features a mythical character embodying 'Mexicanness' and presenting Mexican cinema as an offering to the festival spirits.
The opening night film screening on September 29, 2023 will take place at The Montalban Theater located at 1615 Vine St, Hollywood, CA 90028. HMFF will conclude with a closing night screening a concert at LA Plaza de Cultura y Artes in Downtown L.A., preceded by an award ceremony recognizing the audience's choice for best film and best short film.
The festival is comprised of the following sections: México Ahora, Documental, El Otro México, and Nocturno. México Ahora features the best of Mexican films released in recent years, covering every genre. Documental includes notable non-fiction films made by Mexican filmmakers. El Otro Mexico highlights experiences of Mexicans rarely portrayed on screen, skillfully presenting perceptive narratives that challenge the status quo. The Nocturno section offers offbeat stories and horror films.
For its 8th edition, Tomorrow's Filmmakers Today (TFT), a leading nonprofit organization dedicated to fostering the growth of emerging Latine filmmakers, continues its annual partnership with HMFF. TFT selects and showcases 20 exceptional Latine filmmakers and their short films during the festival.
The 10-day program not only provides a platform for these talented individuals but also offers an immersive professional development experience. Participants will have the opportunity to connect with both esteemed Mexican filmmakers and renowned industry professionals based in the U.S., opening doors and expanding networks crucial for their career advancement.
Filmmakers interested in participating in this transformative program are encouraged to apply. For more information visit
https://filmfreeway.com/HOLA
About Hola México Film Festival:
Founded in 2008, Hola Mexico Film Festival, the largest Mexican Film Festival outside of Mexico, strives to highlight the best and brightest talents in Mexican cinematography. Spanning comedies, dramas, horror films and documentaries, the festival showcases high quality films in a festive atmosphere in conjunction with exclusive parties and outdoor concerts. Sponsors include: Toyota, Delta, Aeroméxico, and LA Plaza de Cultura Y Artes.
Samuel Douek, Founder & Director of the HMFF earned his bachelor's degree in marketing from Mexico City's Anahuac University and his master's degree in Event Management in Sydney, Australia, where he founded Hola Mexico Film Festival. The festival has since grown into the largest of its kind outside of Mexico and is now a celebrated, yearly tradition held in the capital of the worldwide film industry, Los Angeles, CA.
About Toyota:
Toyota, creator of the Prius hybrid and the Mirai fuel cell vehicle, is committed to building vehicles for the way people live through our Toyota and Lexus brands, and directly employs more than 48,000 people in North America (more than 39,000 in the U.S.).
Over the past 65 years, Toyota has assembled nearly 45 million cars and trucks in North America at the company's 13 manufacturing plants. By 2025, the company's 14th plant in North Carolina will begin to manufacture automotive batteries for electrified vehicles.
Through our more than 1,800 North American dealerships (nearly 1,500 in the U.S.), Toyota sold more than 2.4 million cars and trucks (more than 2.1 million in the U.S.) in 2022, of which, nearly one quarter were electrified vehicles (full battery, hybrid, plug-in hybrid and fuel cell).
www.holamexicoff.com
Watch:
https://youtu.be/mlpQGWiB3_w
Source: Vesper Public Relations
---
0 Comments