PrZen/33432150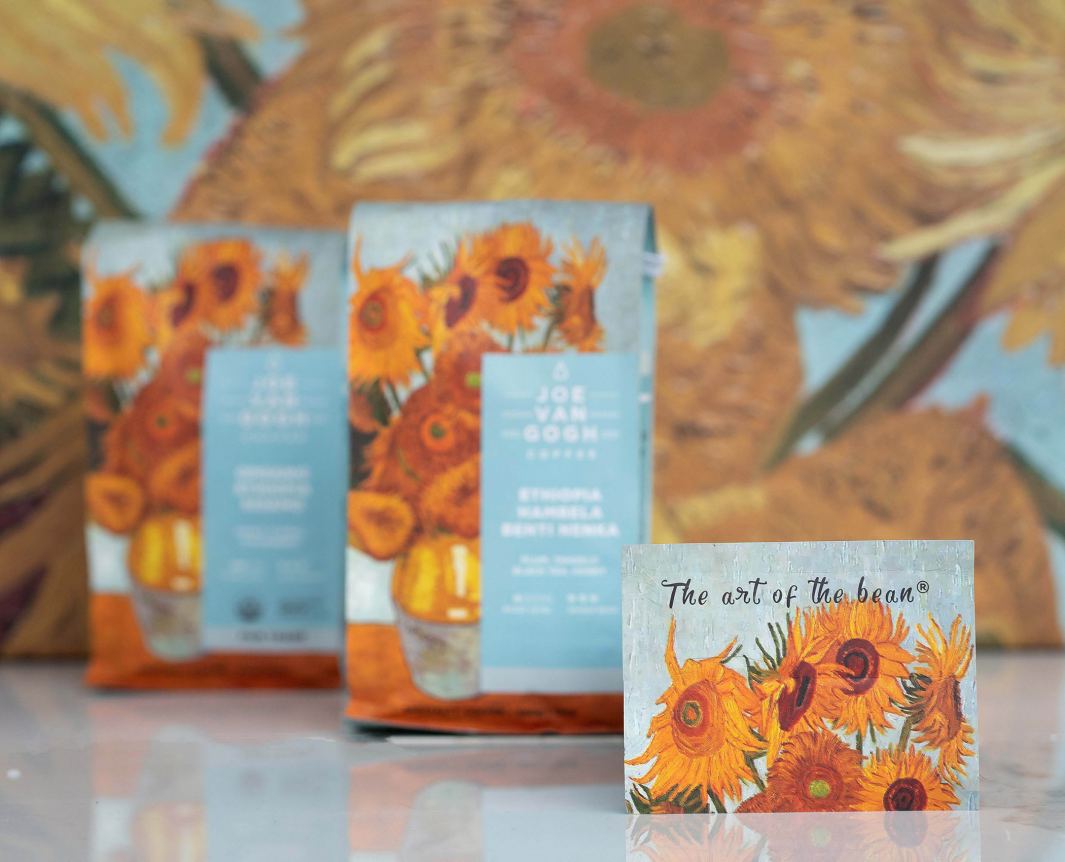 Award-winning Specialty Coffee Roaster and Retailer Celebrates the Art of the Bean
HILLSBOROUGH, N.C.
-
PrZen
-- Specialty coffee roaster Joe Van Gogh, Inc., has launched new retail packaging that features the work of renowned artist Vincent van Gogh. The packaging celebrates Joe Van Gogh's commitment to the careful craft and artistic inspiration of every roast as it searches for "the art of the bean.
®
"
Robbie Roberts, Founder of Joe Van Gogh, said: "We want to more directly connect ourselves to the inspirational work of van Gogh. These bags make a visual connection to a master's work and inspire us to master our coffee craft. The new bag designs also give us a moment to appreciate Vincent van Gogh's achievements every time we open one or ship one to a customer."
Rolling out to Joe Van Gogh cafes, online stores and wholesale partners, the new packaging features three famous Vincent van Gogh paintings:
"Vase with Twelve Sunflowers (1889)," perhaps van Gogh's most famous work, is featured on Joe Van Gogh's single origin coffee bags;
"Wheat Field with Cypresses (1889)," depicting the towering trees around Saint-Rémy, is highlighted on Joe Van Gogh's bags dedicated to coffee blends;
"The Starry Night (1889)," an epic work embracing mood and expression, is aptly featured on Joe Van Gogh's bags dedicated to special roasts like decaffeinated coffees.
Lane Mitchell, Marketing Director of Joe Van Gogh, said, "Like great art, great coffee is a sensory journey that inspires and transforms. By featuring a storied artistic master like Vincent van Gogh, we convey the artistry of the beans inside and reflect the many coffee masters – from seed to service – who are involved in bringing our coffee to the world."
ABOUT JOE VAN GOGH
Joe Van Gogh can trace its beginnings to 1991 as a single coffeehouse, where the coffee was roasted just inside the front door. Creating an immersive coffee culture and building a sense of community is how Joe Van Gogh started its journey in coffee, and it's what con- tinues to drive us today. Thanks to the dedication of our customers and work of our team for more than a quarter century, Joe Van Gogh coffee can be found at hundreds of coffee shops, cafes, restaurants, hospitals, groceries and specialty retailers across the nation, including cafes in Durham, Raleigh and Chapel Hill, NC.
https://joevangogh.com
LINK TO HIGH RES PHOTOGRAPHS:
https://bit.ly/JVG_VincentBagPhotos
Source: Joe Van Gogh Inc.
---
0 Comments