PrZen/33456877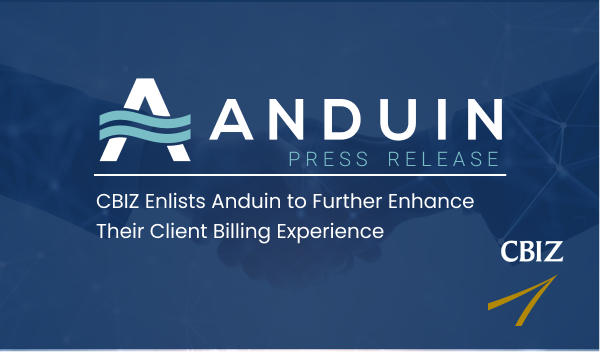 Nationally-renowned firm will deploy Anduin's Intelligence-Based Billing™ platform to deliver a superior experience for its growing client base, and to save time for key personnel
CHARLOTTE, N.C.
-
PrZen
--
Anduin
, a leading technology company helping accounting firms streamline their work-to-cash cycle and practice management operations with artificial intelligence (AI), today announces CBIZ, one of the nation's largest providers of professional advisory services, has chosen to employ Anduin's Intelligence-Based Billing™ (IBB) platform in the company's work-to-cash cycle.
Anduin's IBB platform was built from the ground-up alongside leading firms to help them speed up cash flow, increase efficiencies for key personnel, and to create an easy and delightful billing experience for firm clients. Launched in 2021, the IBB platform has now been introduced to dozens of Top400-ranked firms, and is delivering measurable improvements to firm financial health (1/11/2022: "
2021 Analysis, Testimonials Reveal Anduin Delivers ROI in Less Than 30 Days
").
With over 100 office locations, 5,000 associates, and 82,000 clients, CBIZ "uniquely offers national resources paired with personal service." And with the addition of Anduin's IBB platform, the firm aims to further enhance the invoicing process and bill payment experience for its growing client base.
Said Vice President, Practice Management Office of CBIZ, Tim Perdion: "Our team is really pleased to bring an integrated digital invoice delivery and online payment option to our Financial Services clients and Anduin has been a great partner in the process from the beginning of the process. Anduin has been really responsive to our needs and has guided us through all aspects of the project. While we are pleased to introduce their payment portal to our clients, we are also encouraged by their commitment to streamline business processes in the work-to-cash cycle."
Anduin CEO, Justin Adams: "Our team is thrilled to welcome CBIZ to the Anduin community, and we're honored to have the opportunity to help them grow and delight their clients. Anduin was fortunate to see dramatic growth in 2021, and I'm thrilled to see where 2022 takes us with dynamic and progressive customers like CBIZ."
For more information, visit
www.anduin.ai
.
Source: Anduin
---
0 Comments